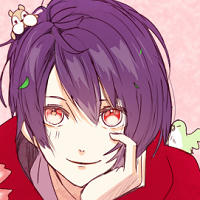 Scarlet
Faction

Grimm Famiglia
Physical appearance
Personality
Backstory/Others
Scarlet is rather short, all things considered, barely reaching around Fuka's height. He appears to be fairly young. His face is considered cute – and he's insecure about it looking too girly.

His hair is short, straight, and purple in color. His eyes are a soft and light red. They often appear serious, but that doesn't mean they never look soft – in fact, they seem to sparkle when he's having fun talking.

He typically wears a red-hooded cloak about his shoulders and a sniper riffle upon his back. Underneath this signature red hood is a white, long-sleeved, button-up shirt and dark blue pants. He also wears suspenders and loose blue ribbon-tie. He dons a light-blue belt and a pack that has many essential items inside of it, inclusive of emergency food rations, ointment that he made, and a small sewing kit.

Underneath his shirt, below his left shoulder, is a deeply imprinted burn – the mark of the Grimm Famiglia.

Scarlet is rather level-headed and mature, especially for the age of which his appearance makes him look. He tends to be rather cautious – perhaps overly so in his suspiciousness – and he tends to be the one apologizing for the misdeeds and trouble the other members of his famiglia cause. However, his cautious initial appearance, he's rather sweet and cares deeply for those close to him, often worrying about their well-being.

Scarlet is formal, polite, and is rather against letting himself get too close to members of other famiglia – only friends on Sunday is a statement that would be fitting, though he does wish for peace one day. He has to be realistic, though, so he tells himself. He doesn't have a habit of really sugar coating things, but he will correct himself if he feels he has done one completely wrong. He's a kind but serious and tries to think before he acts.

He can be considered pacifistic, completely so – something he had learned from the don of his famiglia. Maybe it, in his own words, makes him a failure of a mafiosi, but he just doesn't have interest in the violence, and much prefers solving conflicts with peaceful discussion. He's rather calm but sensitive and self-conscious about all aspects of himself – becoming a bit more worked up if someone were to mention his height or call him cute. He does find his own personal complaining annoying, but it's part of him – so it happens. He's not good at conversations, and would prefer if other people start them – and he usually wouldn't approach someone unless he needed something. Also, Scarlet is often prepared - thus his emergency pack, relatively resourceful when hunting, and a fairly decent cook.

Scarlet is a caporegime and, in the absence of Hamelin, the acting don of the Grimm Famiglia. He can be seen attending meetings and generally being the main representative of his family. He's very involved in the business because of that, and highly aware of this situation, often apologizing for the damages Hansel and Gretel cause. He really is trying his best to preserve his famiglia.

The name Little Red Sniper Hood fits Scarlet well, as he has been trained to use the sniper rifle on his back – and he's always been notable for his red cloak. However, Scarlet only ever uses his rifle in the most drastic of occasions, as the weight of fighting has never been of his interest.

Scarlet is rather busy, often running around to discuss payment and cleanup of what has been caused. He often finds himself remembering his times with Hamelin, and everything he experienced with him. He does find it odd to think that Hamelin's actions were completely of his own volition, so he can't be mean to him, should a return ever happen. Scarlet really does care deeply for Hansel and Gretel, and quietly hopes for peace one day, even if he knows it cannot be. He likes going outside the city sometimes for a breather, and he often hunts for food since the Grimms are often too poor to afford buying from Heidi.

Player :
Lizzy/Pita (I'll respond to either!)
Age
18
Anything you'd like to tell us
I'll cover a lot of this later, but I'm a otome enthusiast who also happens to love fairy tales. I have years of Rp and general writing experience, and I have a lot of feelings about Ozmafia, so here I am. Scarlet means a lot to me, so I hope I can get along with you all and do him justice.



Posts

: 56


Join date

: 2016-07-10



As someone who also loves Scarlet, I think you did a fantastic job of this! Looking forward to RPing with you in the near future.

(P.S. - Is your name Elizabeth? cause mine is LOL I go by Beth though. would be funny if you have the same name and we both like the same char!)

Guest

Guest





An excellent app, you really had nothing to worry about as it seems you really know the character well

I formally welcome you here and will update your permissions so you can roleplay!
Feel free to join the chat sometimes as well!
Admin




Posts

: 92


Join date

: 2016-05-20



Hello and welcome to the forum. Finally the Grimm family is complete (yeah!!!). I hope you'll have fun

Guest

Guest





Thank you for the warm welcome! And yes, ahaha, the Grimm family is here now! I'm not the best at asking to start Rps (I have the same issue on tumblr as well), but I look forward to digging more into Scarlet's character - and his relationship with Hansel and Gretel as well.



Posts

: 56


Join date

: 2016-07-10





Similar topics
---
Permissions in this forum:
You
cannot
reply to topics in this forum